CommuniLink has won "The Best of Domain Name & Cloud Hosting" in the e-brand awards 2016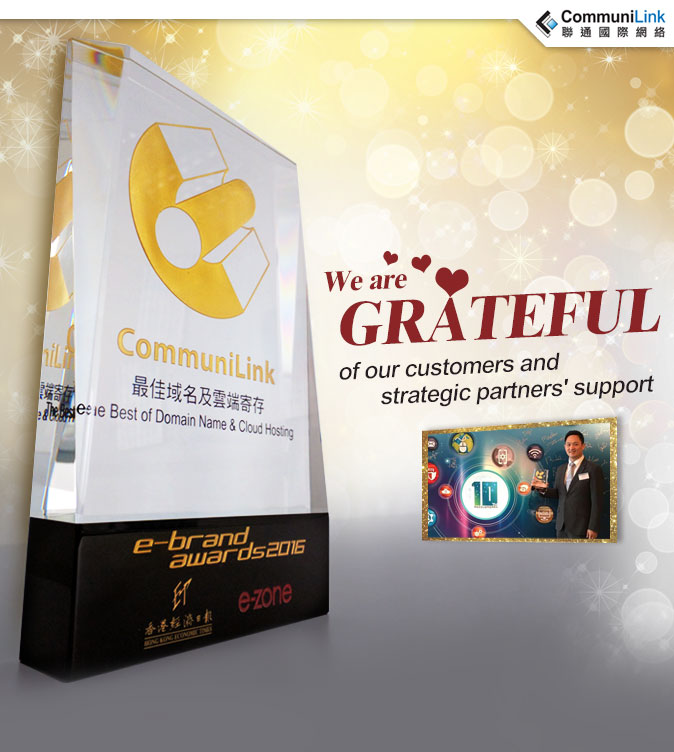 CommuniLink has won The Best of Domain Name & Cloud Hosting in the e-brand awards 2016
CommuniLink earned "The Best Web Hosting Company Award" in the "e-brand awards 2016" from "e-zone" (the most popular consumer electronics magazine in Hong Kong*). We are grateful of our customers and strategic partners' support. The reward is an affirmative action to our service and technology; it is our pleasure to share the happiness with you.
Based on our customers' on-going support, CommuniLink will keep developing service and products that match our customers' needs, in which we always keep our service target "Leading-edge Technology, courteous service" on our mind.
For more details of the award and introduction of awarded companies, please refer to "e-zone" magazine. We are grateful to have your on-going support, please visit
http://ebrand.e-zone.com.hk/intro.php
for more information of
"e-Generation Brand Award".
* According to the records from "Marketing" magazine, "e-zone" is the crown in the Consumer Electronics category for 5 consecutive years.