Server
International Dedicated Server Rental
International Dedicated Server Rental
International Server assists you to expand the world market. Let your website more approachable for target customers with monthly fee HK$ 1,400 up
| | Malaysia | Singapore | USA | Taiwan | Japan | China |
| --- | --- | --- | --- | --- | --- | --- |
| Prepaid 12 Months | HK$1,600/m | HK$2,000/m | HK$2,000/m | HK$1,800/m | HK$3,500/m | HK$1,600/m |
| Prepaid 24 Months | HK$1,400/m | HK$1,800/m | HK$1,800/m | HK$1,600/m | HK$3,100/m | HK$1,400/m |
| | Order Now | Order Now | Order Now | Order Now | Order Now | Order Now |
| CPU | E3, 4 Core | E3, 4 Core | E3, 4 Core | E3, 4 Core | E3, 4 Core | E5, 8 Core |
| Operation System | Centos、Ubuntu | Centos、Ubuntu | Centos、Ubuntu | Centos、Ubuntu | Centos、Ubuntu | Centos、Ubuntu |
| Ram | 16GB | 16GB | 8GB | 16GB | 8GB | 16GB |
| Hard Disk | 2 x 1TB HD | 2 x 1TB HD | 1TB HD | 240GB SSD | 1TB HD | 2 x 1TB HD |
| Overseas Bandwidth | 10MB | 10MB | 30MB | 10MB | 100MB | 10MB |
| Monthly Traffic | Unlimited | Unlimited | Unlimited | Unlimited | 10TB | Unlimited |
| Unique IP | 1 | 1 | 1 | 1 | 1 | 1 |
| Remote Power Reboot | Support | Support | Support | Support | Support | Support |
No One To Help

?

No Common Language

?

Complicated Procedures

?


7x24 Technical Support solves your worries.
We strictly monitor your hardware quality and provide system maintenance, giving you the technical supports which have good quality guaranteed. We offer you online help center and 7x 24 real person technical supports. Therefore, no matter where your server locates, you do not have to worry about the problem of time differences, unanswered communications and complicated application procedures.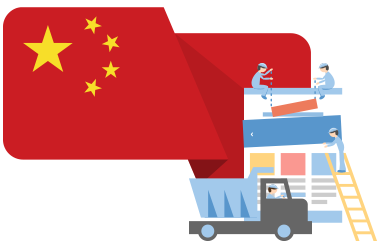 Free Assistance For Apply China ICP
We provide FREE consultation service for applying China ICP. We can facilitate your application to get the ICP in the simplest and fastest way, helping you to build up a safe and reliable website for your business in China.
Powerful Xeon E3/E5 Processor
All our International Servers are ordered from Dell directly and we choose only XEON CPU which has good performance and can deal with high demand website applications.