High-speed double wired bandwidth,
efficient files uploading & downloading

Administrator can Setup Multiple Users

Support Traditional Chinese, Simplified Chinese,
English Languages Interface
SSL protection for uploading
& downloading files
Customized setting for folder
edit & sharing list

Support IOS/Android mobile access

No need install any software or App

7x24 Technical Support
cDrive Cloud Drive Service
Secured file sharing with SSL protection, share your business documents without any obstructs!
A multi-function management system allows you to manage your files online easily. Users are able to upload and download files freely without any software or APP installation. The web control panel is user-friendly in which you can share your files, send huge files, and add additional user accounts. Cloud net by using this service which is suitable for both individual and group.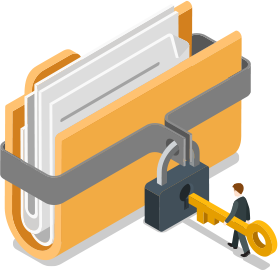 SSL Protection
When upload and download files, SSL will protect your files not to be released to the public. User can share business documents conveniently and confidently.
7x24 Technical Support
CommuniLink provides 24 hours technical support hotline. Our professional technical team gives assistance in any time regard to any technical problems. We insist on real person communication, instead of website and automatic reply system.
Mighty Cloud Platform
All files are stored on Cloud platform which is formed by advanced server groups. It provides service through shared spaces and supports the unlimited expansion of hardware, which let us to prepare an environment for the increasing demand of expansion.

SSL
When upload and download files, SSL will protect your files not to be released to the public

Server Protective Features
Redundant Servers, Redundant power supplies, Disaster Recovery System, Daily Back-up

No Need Install Any Software or APP
Users can login to the system via specific website without any installation of software or APP

Support Android to Upload/
Download Files
Users can use mobile device with Android platform to login Cloud Drive and upload/download files

User-Friendly Web Control Panel
Users can manage files and folders via user-friendly web control panel

Mail with Link
After uploaded files, users can email the URL of it to others for downloading files while without leaking your password

Shared Space
Users can share files in the space

Members / Users Management
- User Classification: Administrator and User
- Administrator can add, delete, and edit
users'space and all other information
- Each user has own login information and storage spaces

Reminder
Each User has own reminder which they can add, delete, and edit information anytime

Communication
Administrator can release the latest news or notices for users to read after login

Search Administrative Record
Administrator can check and read all administrative record in the account



---
Payment
Individual
Group
Business
Enterprise
Storage Space

30GB
300GB
1000GB
2000GB
User Account
1
5
20
50
Special Offer
HK$40
HK$65
HK$180
HK$350
12 Months

Prepaid Discount

0%
0%
10%
10%
24 Months

Prepaid Discount

10%
10%
20%
20%
Remark:
- Unique URL will be provided for every customer to login the Web Control Panel. You may choose the name of your URL
[e.g. http://YourName.cdrive.hk, YourName could be tailor-made], customer must confirm the URL while order confirmation
- The order will be processed in 10 minues after the payment is confirmed by CommuniLink Account Department.