Server requires not only the good combinations of hardware and software, location is also a key factor. It is a waste of time and money you have invested if the best server is not located in a secured environment and if it is not guaranteed online all the time.
To enable full concentration on business development, CommuniLink provides highly secured and well-equipped data center, where customers are definitely confident to place their server and related facilities. For customers with high internet traffic demand, we can even provide local and overseas dedicated bandwidth. With our own two exclusive fiber optics networks, customers are privileged to have high speed and stable world-wide connection for their server.
Service Advantages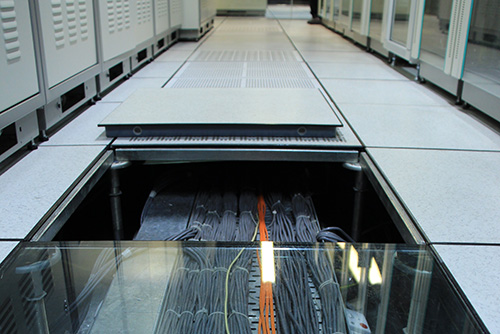 Raised Flooring
The Data Centers have raised flooring. This enables a constant flow of conditioned air and helps to maintain uniform room temperature at all times. In addition, raised flooring reduces static and ensures a professional, computer grade environment for our servers.
FM200 Fire Suppression System
The facility is equipped with a FM200 fire suppression system, designed to immediately extinguish fire and protect servers and equipment.
24-hour Control Center
The Data Centers are completely monitored by CCTV everywhere, in order to detect any unusual condition. There are professional technicians monitor the network status with huge monitors, which show real time internet traffic information.
Force Filtered Cooling
All our web servers are equipped with a positive-pressure filtered-air system. Four large fans pull filtered air into each server's protective case, and the components within are cooled by fans that circulate this purified air. This constant introduction of clean air into the case creates a positive pressure environment ensuring that dust and particles remain outside the server.
Exclusive Fiber Optics Networks
CommuniLink owns 20Gbps dedicated local bandwidth of fiber optics network straight into HKIX, 3Gpps(CN2) dedicated China bandwidth, together with 10Gbps oversea bandwidth, as a result our customers are privileged to have connectivity protection and stable online market network.
Uninterruptible Power System
To guard against local power failures, they have industrial-grade, three-phase Liebert UPS systems. These act as back-up batteries, maintaining uninterrupted power in case of surges or power outages. With these back-up systems in place, we can keep our network up and running definitely without relying on external power.
1U05A




2U1A




5U2A




10U3A




20U5A




47U8A




47U13A




47U26A




Monthly Fee
HK$750 /m
HK$1,100 /m
HK$2,200 /m
HK$3,300 /m
HK$4,900 /m
HK$ 7,800 /m
HK$ 10,500 /m
HK$18,000 /m
Order Now
Order Now
Order Now
Order Now
Order Now
Order Now
Order Now
Order Now
Network Interface
1GB
1GB
1GB
1GB
1GB
1GB
1GB
1GB
IP
1
2
4
8
16
24
32
32
Power Supply
0.5A
1A
2A
3A
5A
8A
13A
26A
Access
Permission

Appointment

Appointment

Appointment

No limitation

No limitation

No limitation

No limitation

No limitation

Cabinet Size: 600mm Width x 1000mm Depth x 2200mm Height
Equipment can be moved to the Data Center at the same day after payment confirmed
✓
✓
✓
✓
✓
✓
✓
✓
Free MRTG traffic report
✓
✓
✓
✓
✓
✓
✓
✓
High-power supply cabinet, allow to consume extra power at anytime
✓
✓
✓
✓
✓
✓
✓
✓
Secure, Monitored and Well-equipped Data Center Environment
✓
✓
✓
✓
✓
✓
✓
✓
| Value-added service | Service Charges |
| --- | --- |
| Additional Unique IP Address (Each) | HK$100/m |
| Extra Power Supply (0.5A) | HK$300/m |
| Dedicated Local Bandwidth (10Mbps) | HK$100/m |
| Dedicated Overseas(Included China) Bandwidth(1Mbps) | HK$350/m |
| 1 Class C IP Address | Quotation |
Remarks:
Minimum Prepayment for 12 Months.
30 Days advance written notice is required for any service termination.